Weather forecasting has come a long way over the last few decades, but there are still limits to what meteorologists can predict long-term.
Winter forecasts can be especially tricky, as one or two degrees can make the difference between several inches of snow or an inch of a slushy rain/snow mix.
It often comes right down to the day when the storm hits to determine where exactly a rain-snow line will set up.
As such, it is important to remember to accept winter storm forecasts for what they are – forecasts.
They are subject to – and often do – change as new information and data become available.
In a world of easily accessible information and sharing capabilities on social media, it is also important to consider your source for weather information.
The National Weather Service prepared some key items to remember as winter weather threatens and also shared a general timeline of when winter forecasts come together.
FIVE THINGS TO KNOW ABOUT WINTER WEATHER FORECASTS:
Snow and ice totals can vary greatly over short distances.
Winter forecasts can change frequently.
Focus more on a winter storm's impacts.
Know your weather alert terminology.
Rely on a dependable weather source for information.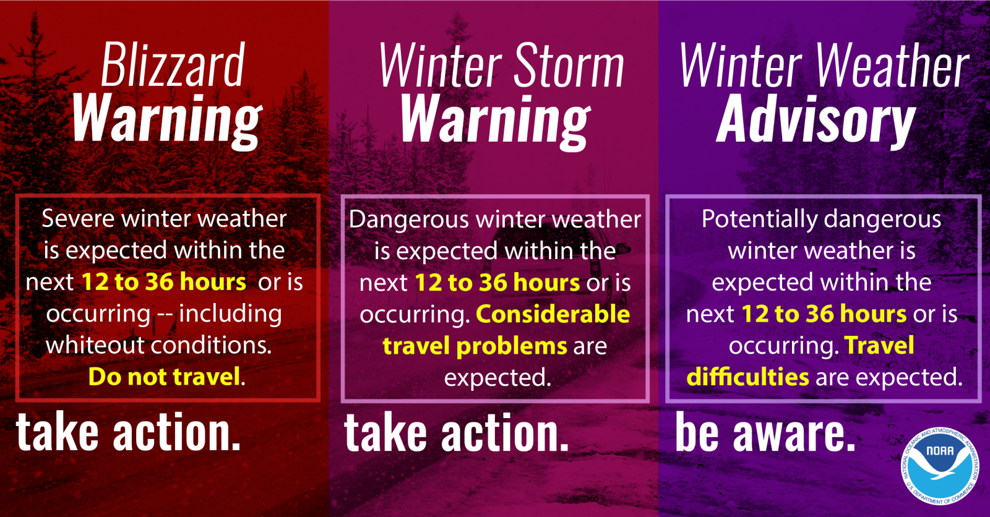 ---
WINTER WEATHER FORECASTS – WHAT YOU SHOULD KNOW AND WHEN YOU SHOULD KNOW IT
5-7 Days Out: General Patterns Only
a potential storm in a general area; may or may not happen at all
LOCATION: could vary 2-3 states
TIMING: could vary 1-2 days
SNOW AMOUNTS: Not possible to guess
3-4 Days Out: "Heads Up"
able to determine IF a storm will develop, but exactly where and what still unknown
LOCATION: could vary 1-2 states
TIMING: could vary 12-24 hours
SNOW AMOUNTS: vague estimates only
1-2 Days Out: Forecast Gets Closer
Storm expected, but details could still change
LOCATION: could vary 50-150 miles
TIMING: could vary 6-12 hours
SNOW AMOUNTS: can be forecast in inches, but may still change
12-24 Hours Out: Detailed Forecast
Tracking a storm as it approaches
LOCATION: within a county
TIMING: within a few hours
SNOW AMOUNTS: Can often be forecast within an inch or two
---
Details become clearer as the event gets closer.
Many times, winter storm systems are anticipated before they even reach land, meaning there is not a lot of data for weather forecast models.
Once they make it over land, the National Weather Service's network of weather balloons are able to get more detailed measurements of the storm, making forecast models a little more accurate.
That said, there can be last minute changes to even the most confident forecasts.
A slight adjustment of the storm track north or south can shift the heaviest snow bands or dry air could infiltrate the system, greatly reducing the amount of snow produced.
A good analogy to use is the "Plinko" game.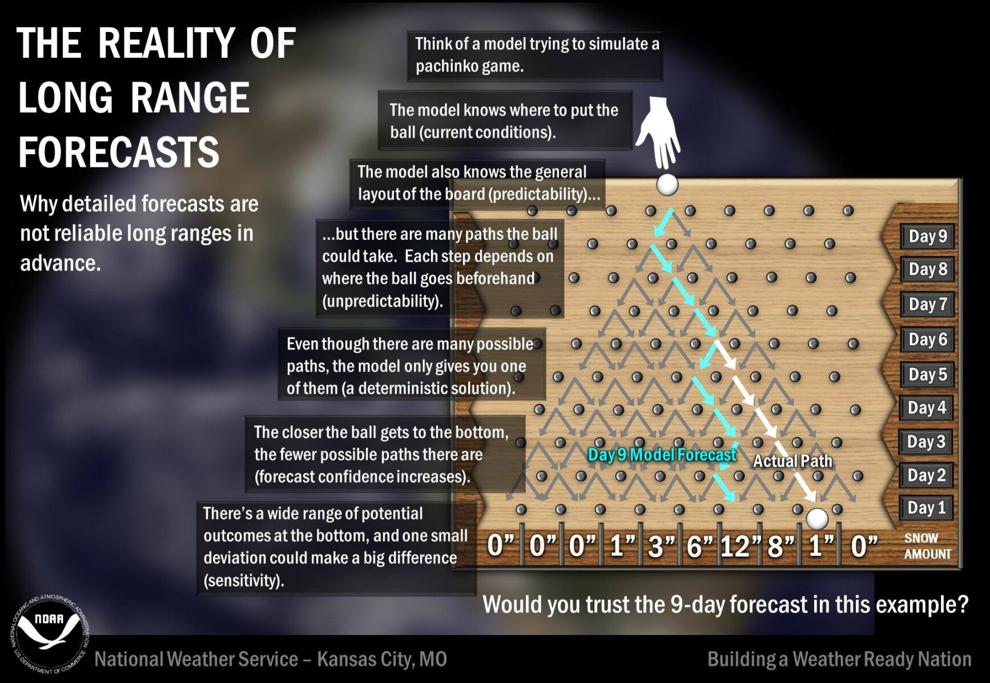 As always, Storm Team 10 will be keeping an eye on the forecast and tracking any potential winter storms.
Be sure to download the Storm Team 10 weather app for the latest updates on the go!