WABASH VALLEY (WTHI) - A winter-like weekend is expected in the Wabash Valley, and snow is possible for some.
The biggest weather topic this weekend will be the potential for snow Friday night.
Storm Team 10 expects the greatest chance for accumulating snow (although minor) to be in our Illinois communities.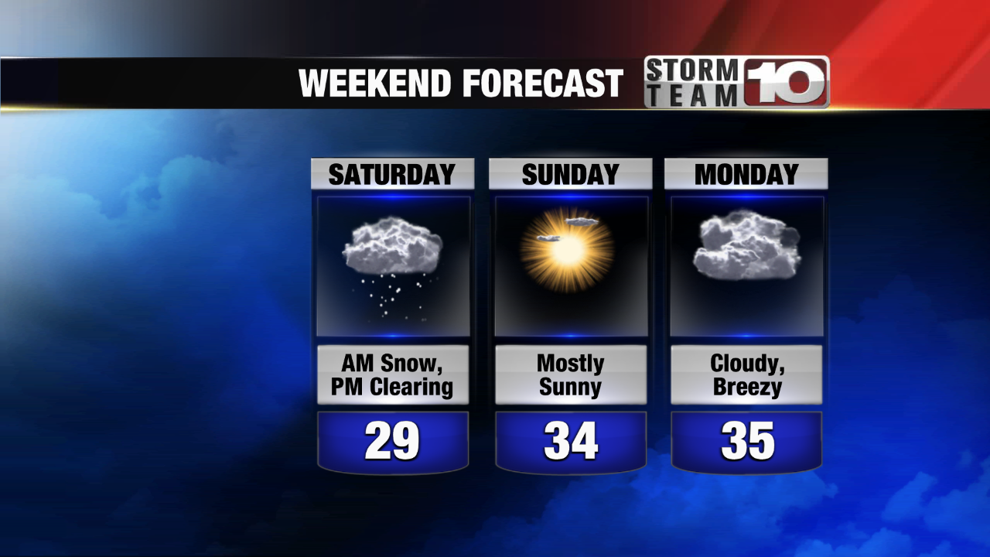 See the full forecast discussion below.
FRIDAY NIGHT:
Clouds are expected for Friday night with temperatures dropping into the middle 20s.
Snow showers are expected to move in around midnight. Rain may briefly mix in with the snow before precipitation changes over to all snow through the early morning hours.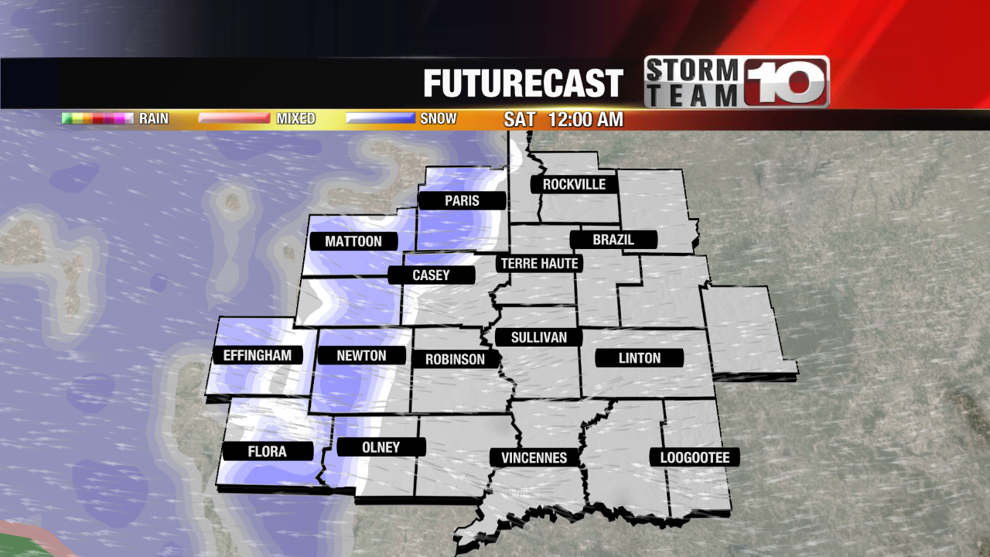 The most widespread snow is expected from roughly 2 to 5 a.m. Saturday, with the heaviest snow staying in parts of Illinois.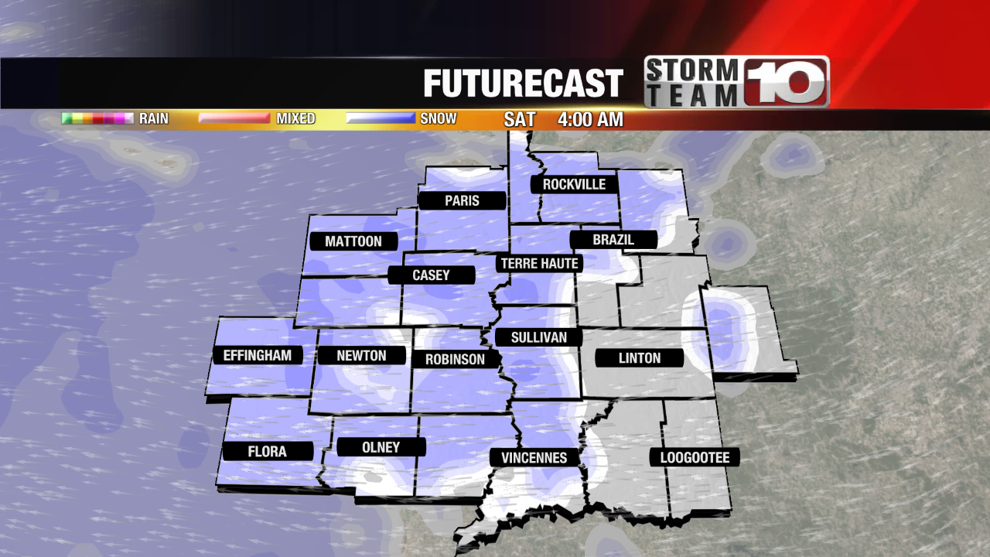 This will be a fairly quick-moving system with most of the snow exiting the News 10 viewing area early Saturday morning.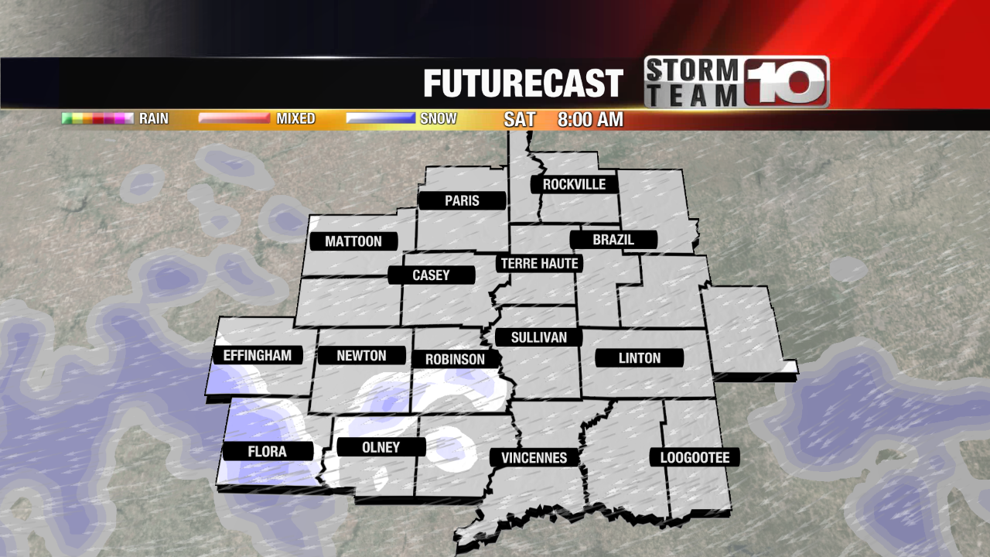 The approaching weather system will not be a big snow producer for the Wabash Valley.
Most of the News 10 viewing area will see less than an inch of snow. Areas closer to Interstate 57 in Illinois have the potential to see a little more snow, but still minor amounts with 1-2 inches.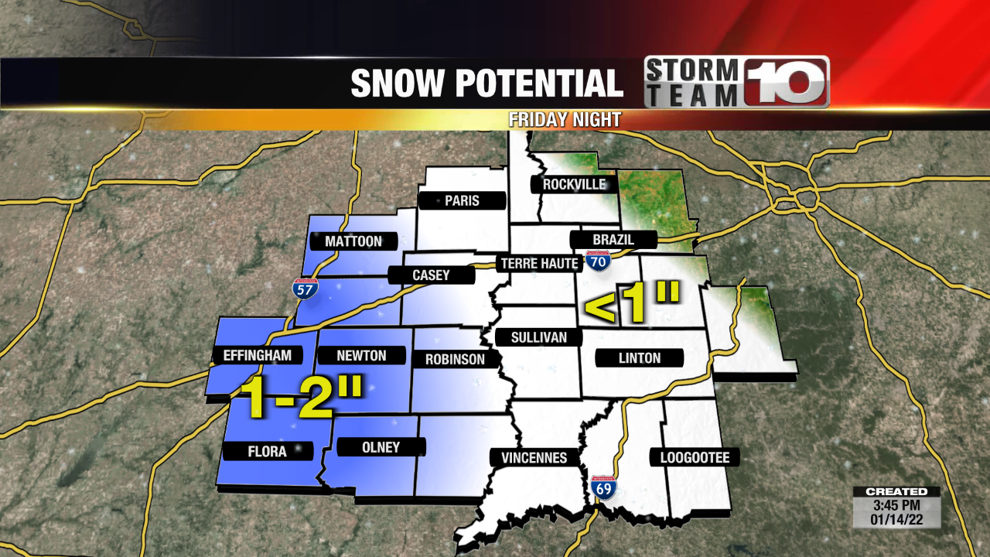 SATURDAY:
A few lingering snow showers are possible early Saturday before the sky begins to gradually clear. A mostly sunny sky is expected by the afternoon with highs in the lower 30s.
SATURDAY NIGHT:
Lows will drop into the teens under a mostly clear sky. Wind chill values could drop to near 10° as wind gusts will be as high as 20 mph.
SUNDAY:
Sunday will be a sunny and seasonable day with highs climbing into the middle 30s. There'll be a light northeast breeze at 5-10 mph.
SUNDAY NIGHT:
Clouds move in Sunday night, and it'll become more breezy. Lows fall into the lower 20s.
MARTIN LUTHER KING JR. DAY:
For those with an extended weekend, Monday will be cloudy and breezy. Wind gusts from the northwest could be as high as 25 mph. 
---
Be sure to tune to WTHI-TV for the latest forecasts and download the Storm Team 10 weather app to stay updated if you're away from the TV!
---
Click here for winter weather resources, including road conditions.