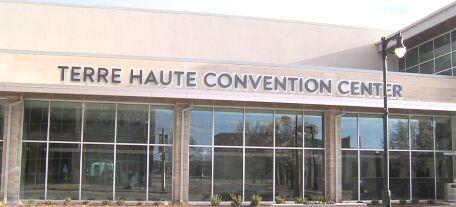 TERRE HAUTE, Ind. (WTHI)- After over a year of construction the Terre Haute Convention Center is finally complete and ready to welcome people in! Its grand opening will be held Saturday, April 9th, from 10 a.m to 1 p.m to show off all the center has to offer. 
The ribbon cutting will begin at 10 a.m. Tours of the facility, food tastings, face painting, children's museum activities, and more will be available to enjoy.  
From weddings to meetings to retreats the center is happy to host you and meet all your needs. The state of the art facility has tons of meeting rooms, ballrooms, and a big kitchen.
This new addition to downtown Terre Haute will help boost the local economy!
It will be bringing in people from out of town which will help bring business to hotels and restaurants.
The director of sales and marketing for the center, Pam Chamberlain, says this has been a need for the city for quite some time.
"Just to have that money come into Terre haute go back into our streets, our system, the capital improvement of Terre Haute is how it's going to generate and come about to what we can build upon further."
A business expo will be held on Saturday for 30 small local businesses will show off their products and services. The center has already booked a variety of events including weddings, exhibits, and dinners.
One organization coming to the center in October is the beekeepers of Indiana. It will hold a conference at the center for over 200 people. 
The treasurer, Debbie Seib says she's excited to experience the new facility and for everyone to see all Terre Haute has to offer.
"It's the experience of the Haute city, so we certainly want companies to contact us contact the visitors bureau and see what they can do to help us out with our conference."
If you're interested in booking a meeting or event at the Convention Center click here.