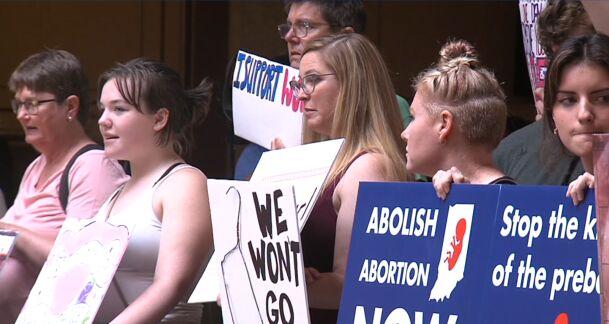 INDIANA (WTHI) - Indiana's new abortion law is now in effect.
The Hoosier state was the first state to pass a near-total abortion ban after the Supreme Court overturned Roe vs. Wade.
There are certainly mixed emotions as this law takes effect.
Some feel it's a step forward in protecting life.
Others say it's a step backwards in women's health care.
Whether it's fear of starting a family or women who have had abortions, several women have said they're worried.
Advocates for the law say they're worried about what would've happened without it.
It's a story we've been following since the Indiana special session where the legislature passed the law.
"People will die, people will die from this law," said Mandi McKeen, who advocates for abortion.
McKeen and Lena Harvey, who used to live in Terre Haute both say this new law impacts them.
They say decisions about abortion should be left in the hands of doctors instead of lawmakers.
"I just find it weird that these lawmakers are making all of these laws against our bodies when they can't even talk about menstruation, tampons and pads because they're weirded out by that," Harvey said.
Meanwhile, Susan B. Anthony Pro-Life America says elected state officials are listening to the voices of Hoosiers by recognizing the humanity of the unborn child.
Locally, the Crisis Pregnancy Center has backed the ban.
In a statement to News 10, they said, "Today marks an opportunity for all of us to come together to show true love and compassion for pregnant women and their unborn babies.
For us at the CPC, it is not about politics.  It is about loving both mom and baby which we have done for over 30 years.
We will continue to prove a safe, confidential and loving environment for these moms to work through their pregnancy.
They deserve that.  This safe and loving environment is exactly what they love about the CPC."
For women like McKeen -- who had an abortion after an unplanned pregnancy -- the law is bringing out tough emotions.
"Pregnant people in Indiana are going to suffer from this and everyone, regardless of their ability to get pregnant, should be absolutely furious," McKeen said.
Both women said they were concerned about other women having to make long trips to access abortion care.
"The fact that it's not accessible within 10 minutes from me, that's terrifying," Harvey said.
We asked Harvey if she had any plans to leave Indiana because of the law.
She said her career is keeping her here for now, but she would like to move out if she could.