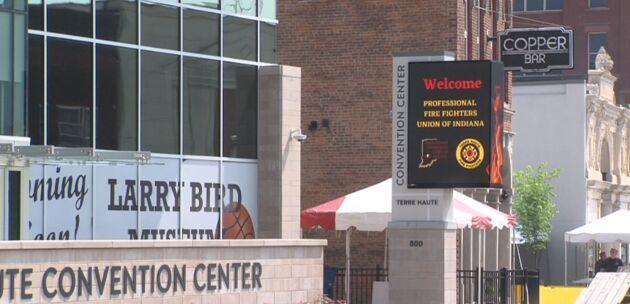 TERRE HAUTE, Ind. (WTHI) - Events continue for the Professional Firefighters Union of Indiana.
The group is holding its annual state convention in Terre Haute this week.
Today, firefighters are talking about state legislation that could help keep them safe on the job.
Two talking points firefighters are discussing are training and safety.
That's something nearly 200 firefighters will take part in at the Convention Center this week.
Jeremy Bush is a firefighter and the president of the Fort Wayne Professional Firefighters Union.
He and Mike Whited, the vice president of the Professional Firefighters of Indiana, are focused on making people's jobs safer.
Bush says it starts with legislation passed in this year's statehouse session.
"All legislation at the statehouse is vitally important to firefighters. It allows us to do our job and be confident in what we do, that if something happens to us, ultimately our families are taken care of," Bush said.
The bills require PFAS chemicals to be labelled on fire gear and increase money for training.
Ground has been broken on a central fire training academy in Indiana.
More training centers are also coming to the Hoosier state.
"We fight fire quite a bit. We train on that, but when it comes to high-angle rescue, confined space rescue, auto extraction, those are things you don't do every day, so you've got to keep your skills honed on that," Whited said.
Whited says most of these bills didn't have too much trouble getting to Governor Holcomb's desk and signed into law.
"We have a good relationship with just about every legislator at the state. And most of our bills, when we bring something forward, it passes unanimous," Whited said.
Bush says as a firefighter, he's thankful for the support from legislators and the public on this legislation.
"It allows us to do our job effectively and efficiently. It gives us comfort to know that ultimately if we have to make a decision that puts our lives in danger, that our families will be taken care of, so, I just say thank you to everyone that's shown support over the years," Bush said.
The firefighters are also taking time to have fun during their conference, with several events scheduled throughout the week.