PUTNAM COUNTY, Ind. (WTHI) - A traffic stop on I-70 leads police to nearly $350,000 in drugs.
It happened near the 35 mile-marker in Putnam County.
On Wednesday morning, Indiana State Police stopped a car being driven by 21-year-old Thomas Lee King of Colorado Springs, Colorado.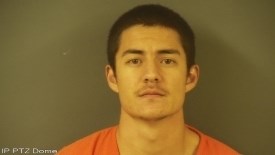 The reason for the traffic stop was speeding.
While speaking with King, police say they found information that led to the search of the car.
That is when they found a large duffle bag with what they believe to be marijuana.
In the trunk of the car, officers say they found three more large duffle bags with packaged marijuana and vials of suspected marijuana oil.
In total, police found about 75 lbs of pot, 300 vials of marijuana oil, and one OxyContin tablet.
The estimated value of the packaged marijuana is $337,000 and the marijuana oil is valued at $16,500.
Police say King was driving from Colorado to Ohio.
He is facing charges of possession of marijuana over 10 lbs, dealing marijuana over 10lbs, possession of a controlled substance, and operating while intoxicated.